Trusted by Schools That Value Student Support
How Ribbon Improves Student Support
Be proactive with learner outreach - spot signs of trouble, identify issues quickly, and provide tailored support.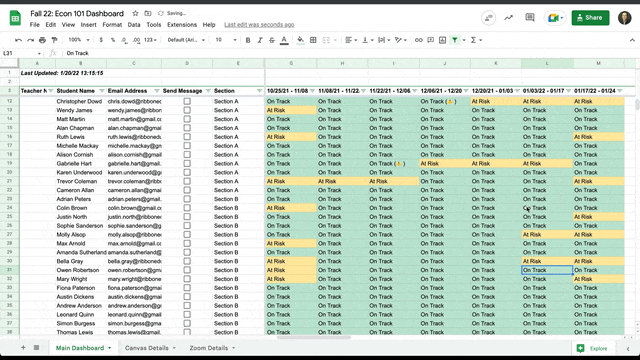 One home for student support
Handle support support all in one place. Ribbon securely integrates with Canvas LMS, Zoom and email to give you a one-stop shop for tracking learner progress and providing timely outreach.
DRIVE OPERATIONAL EFFICIENCY
Streamline and automate outreach
Working with students should be joyful! Say goodbye to communication busywork. Leverage bulk 1:1 messaging to free up your time for more high impact support.
Sync across teams and systems
Bring data and teams together. Collaborate with your colleagues through a shared learner profile with notes and communications. Ribbon can even send support activity to your CRM, SIS or central database.
What our customers are saying
"Ribbon gave us an easy way to identify students at risk of falling behind. I love that it works with Google Sheets.
It's a tool that required no additional training."
Anne Duong




VP, Online Instruction
"I'm so pumped about this tool. It will cut our work time in half and allow us to intervene with our students more often."
"Ribbon makes large classes more manageable by filtering down to the subset of students so that we can be strategic about who to focus on when."
Cynthia Minakawa




Enterprise Program Director