Hamline University is all about personalized attention but of course, this takes a lot of attention, time, and focus. So the question becomes, how do we recognize which students really need that extra support, and how do we catch them early enough to get them back on track?
- Kelly Krebs, Director of the Online Degree Completion Program
Overview
With a small team, a large number of online students and a quickly-expanding program, Kelly Krebs, Director of the Online Degree Completion Program at Hamline University, needed to find a way to scale student support while dedicating more attention to strategic program growth—without simply hiring more staff.
Hamline University's Online Degree Completion Program allows students to complete their bachelor's degree online in as little as 18 months. Currently, they offer three degree completion programs: Business, Psychology and Education. A new major in Organizational Leadership will launch in the fall.
With Ribbon, Kelly found a way to scale support and save time through increased focus and streamlined workflows.
The Scaling Challenge
At Hamline University—and at many universities and online adult-learning programs across the country—student success is managed by relatively small teams.
As the program director at a small university, Kelly ends up wearing many hats. Ultimately, his goal is to act as a strategic leader and provide innovation and expansion for their online degree program. But he also serves as the main advisor for students, so he's constantly caught up in the details related to student support and success.
And those details matter a lot. As a student-centered leader working for a school with a highly personalized brand, Kelly carries a deep responsibility for the details of each student. He wanted to be able to both:
make timely interventions and provide effective student support, while also

dedicating time and energy to strategic planning and program growth.
In order to develop strategy further and scale the program effectively, he needed more time. But he also didn't want to reduce the quality or level of investment in student support.
I knew it would be problematic if we grew too fast without having a good handle on student support. Nobody wants to feel like they're flying blind or that the wheels are falling off. But as an individual program director, I just didn't always have the bandwidth to do all the necessary things to support our students and ensure retention while also tending to high-level strategy and expansion efforts.
Hamline's Top Priorities
The tension between high-level strategy and enrollment growth efforts and student support is a familiar one for many online programs.
Kelly knew he needed additional support before the upcoming school year, but hiring and training another staff member wasn't in the budget, and he was concerned that many software solutions would be too difficult to implement or require significant IT resources.
Ultimately, Hamline came to Ribbon for support in three key areas:
saving time: clearly and quickly identifying at-risk students through data-driven analysis

sharpening focus: supporting the right students, at the right time, thus making support more effective

scaling support: enabling them to increase quality support at scale
Ribbon also checked a lot of boxes that eased Kelly's concerns about implementing a new software solution.
just 1 meeting to get started: requiring minimal IT involvement

familiar user interface: with minimal training required to start using

competitive pricing: that scales only when programs grow
How Ribbon is Helping Hamline Scale Effectively
With all student data clearly and automatically organized on a visual dashboard, Kelly's student success efforts are concentrated, efficient, and under control, allowing him to effectively provide student support at scale while also clearing up time—and mental space—for other projects.


Once Kelly was in Ribbon, he started noticing efficiency gains and the benefits of clearer data and streamlined processes right away.
Turning 3 hours of work into a 30 second task -- without losing the human touch.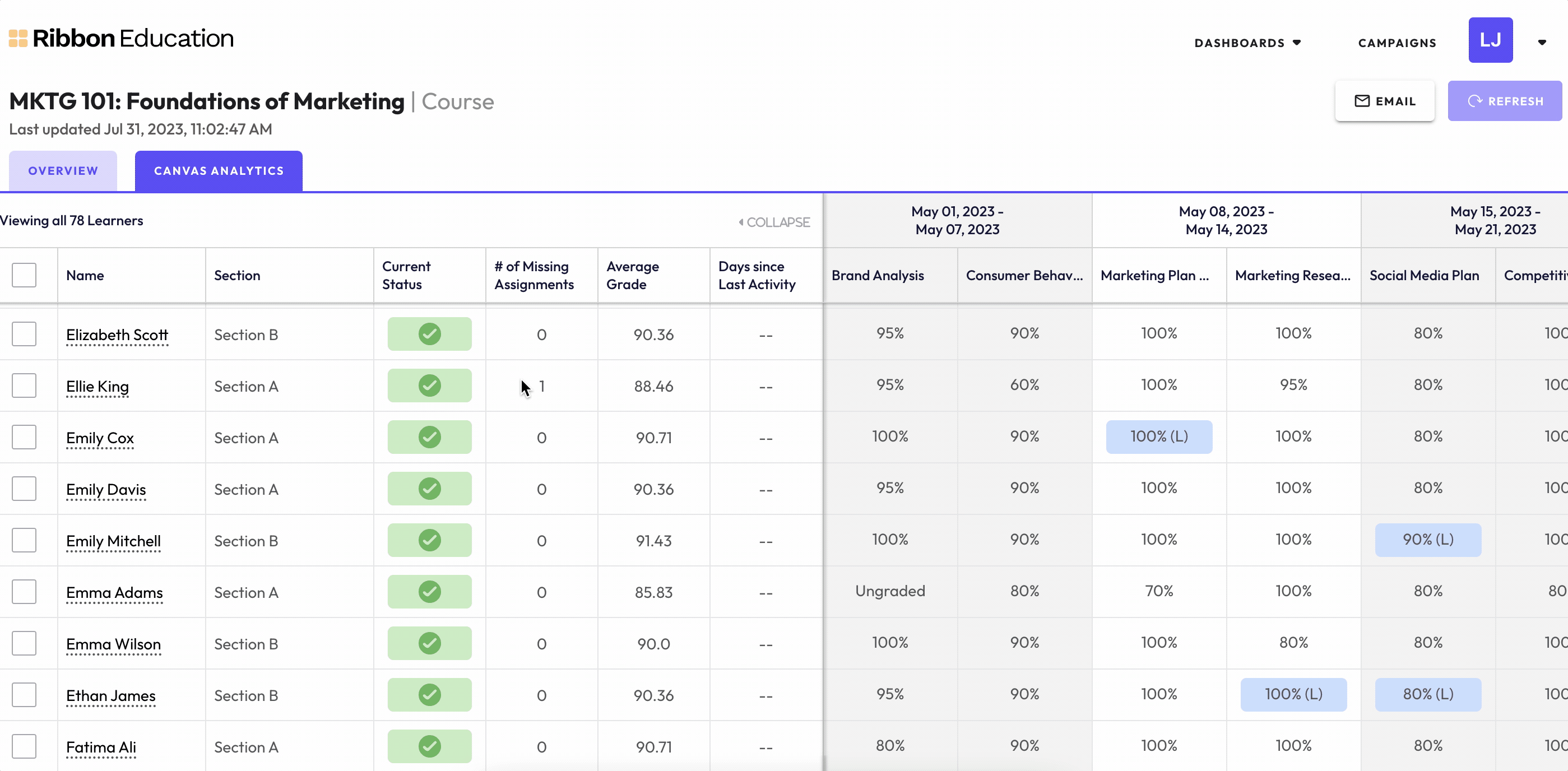 Curious about scaling your programs?
With Ribbon, Kelly has been able to:
improve student outcomes and retention with clear data enabling timely and effective interventions

accelerate program growth through automated visual dashboards that identify learner and program trends

strengthen strategic focus by reducing administrative burden and manual data-analysis processes

do more without hiring additional staff with scalable solutions that free up time without reducing support quality
If you're finding yourself also in need of scalability, time savings or improved data analysis for your student support, we're here to help. Schedule a free diagnostic today and we'll help you determine if Ribbon can work for your program.